Installing an outdoor kitchen is the perfect addition to your outdoor living space this summer! Many homeowners are beginning their hardscape projects now for backyard enjoyment this summer. For many, an outdoor kitchen is high on the backyard transformation list for its benefits.
Don't think you have the space for an outdoor kitchen? Add one to your patio this summer. The experts at Ageless Masonry can design and install all phases of masonry! Patios, driveways, stoops, entrance ways, fire pits, and more! 
Love to host your friends and family for gatherings? Enjoy outdoor cooking? Want to stay relaxed in your backyard? A custom outdoor kitchen is the perfect addition for your backyard oasis.
Reasons to Add an Outdoor Kitchen
Installing an outdoor kitchen will create a relaxing atmosphere, add living space, and become a great investment to share with your friends and family. Here are some reasons why installing an outdoor kitchen will benefit your outdoor living space:
Entertainment  
With the help of an outdoor kitchen, time wasted moving inside and outside prepping is decreased. It also offers double the kitchen space for large gatherings. Depending on the style chosen, outdoor kitchens can also offer more seating. 
Convenience 
Increasing your living space outdoors, makes it more comfortable for you and your guests. Take advantage of the space you already have without extending, and offer more possibilities for space. 
Reduce Utility Costs 
While enjoying the outdoors, you won't have to worry about running the AC while cooking. Barbeque outside and save money on the utilities. 
Keeps Cooking Smells Outdoors
Indoor cooking smells tend to be trapped inside during meal preparation, cooking, and linger after. It could be hard to relax and enjoy your company with the lingering odors. Eliminate the smell while you enjoy cooking in your outdoor space. Cook in the free air while your home stays fresher inside. 
Increase home value
With the help of an outdoor kitchen, your home value will increase. In addition to being a great investment, this will make your home more marketable. 
Custom Options for an Outdoor Kitchen
Choosing the right appliances for your outdoor kitchen could be a little tricky, but with the help of Ageless Masonry, your dream space will be created. We have a lot of experience designing outdoor kitchens with many types of customizations. There are many elements to consider when choosing appliances. Beginning with what appliances you feel you need outdoors, your space size, wants, and the different manufacturers. Some appliances include gas/electric grills, pizza ovens, refrigerator, cabinets, sinks, dishwashers, wine coolers and keg dispensers. The options are endless! 
Pizza Oven
Need another feature to bring the family together? A pizza oven is a great way to get the entire family involved. Or even invite friends to enjoy it as well! Make your own pizza and cook it outdoors with an even better taste. 
Keg Dispenser
Are you an avid beer or wine drinker? A keg dispenser would be the perfect addition to your outdoor kitchen this summer! 
Lighting
Enjoy cooking outdoors during every time of day. Ageless Masonry recommends installing lighting in and around the outdoor kitchen block for ambience and extra lighting for night time. 
TV
An outdoor TV can be mounted to enjoy shows, movies, and music outdoors. Spend the night in your outdoor living space, watching a movie. This could be the perfect addition to spending even more time outdoors. 
We encourage our clients to do research into what they truly want to include in their outdoor kitchen and their overall space. Having a place for receptacles will allow the space to be less cluttered and easier to clean after cooking. An overhead fan is also a great addition to have the air flow more throughout your space. Live more luxuriously and add a functional outdoor kitchen to your outdoor living space with Ageless Masonry. 
Layout Options
There are several layout options when installing an outdoor kitchen. Not sure if you'll like it where you decide to place it? Test it out by putting your appliances, like a grill, there first and see how you like it! These options can be discussed with the Ageless Masonry technician to ensure you will love your new space. Some outdoor kitchen layout options are: l-shaped, island, peninsula, and along a wall. Each of these options has its own pros and cons depending on what the client wants as the primary function. The size of the space is another factor as to what layout style fits. Counter space, shade, heat, seating, preparation areas are other factors to consider. In short, the possibilities are endless when it comes to outdoor kitchen styles!
How to Begin

 
Schedule an estimate with the masonry experts at Ageless Masonry. During the estimate the skilled technician will review your space, budget and wants/needs. They will review several options for each aspect of the project and send examples to refer to. Material colors will also be chosen by the clients, and can be discussed with the technician for recommendations. 
The following are some factors we consider when laying out the outdoor kitchen space. 
Convenience to utilities including water and electricity.
Protection from weather elements.
Size of area planned to use.
Areas for prep, cooking, and entertaining.
The technician will design the outdoor kitchen space. If the client prefers to have a visual representation of what the outdoor kitchen will look like in their space, Ageless Masonry can provide a 3D model. This is a great way for the client to fully understand how their project is going to look. 

Approve the estimate. The office will be in contact with the customer to make sure there are no further questions regarding the estimate. Once the client approves all aspects of the estimate, the office will order all material to be sent to the client's home. We ask if there is a specific place material has to be placed, the client informs our office. 

Demolition and installation. Ageless Masonry will have a team at your home working to install your outdoor kitchen. Using the plan created, Ageless Masonry will complete the project and clean up afterwards, leaving the clients outdoor living space beautiful and ready to use. 

The clients dream outdoor kitchen is completed! We wish every client to enjoy their new space for years to come.
Ageless Masonry Story 
After quarantine many Long Island families began to upgrade their backyards to create their own oasis at home. Ageless Masonry saw an opportunity to continue promoting outdoor kitchens for summer enjoyment. Ageless needed to offer a sale! In April 2021, Ageless Masonry sent out a Father's Day Pre-Sale promotion offering an incredible outdoor kitchen package. Included in this package was the 10' x 3' paver block construction, sizzler appliance package, and bluestone countertop. It was the perfect Father's Day gift and very popular for families across Long Island. This promotional offer was also able to be installed and ready to use several weeks later, ready for Father's Day. Clients were able to customize and upgrade any aspect they wanted as Ageless Masonry made sure they can make their backyard dreams come true. 
Ageless Masonry Outdoor Kitchen Portfolio
Below are some examples of our past work. Each outdoor kitchen can be customized with other appliances, materials, and layouts.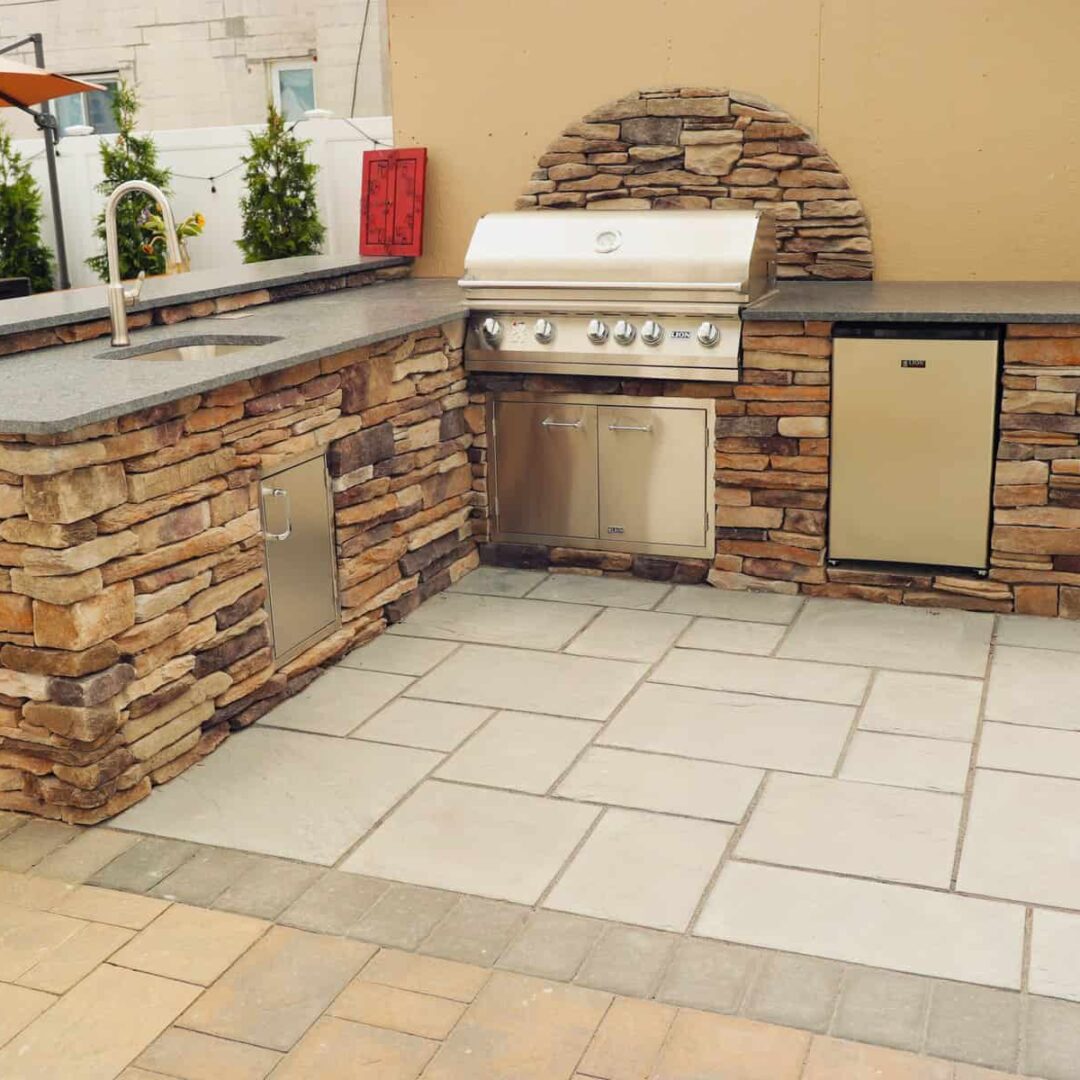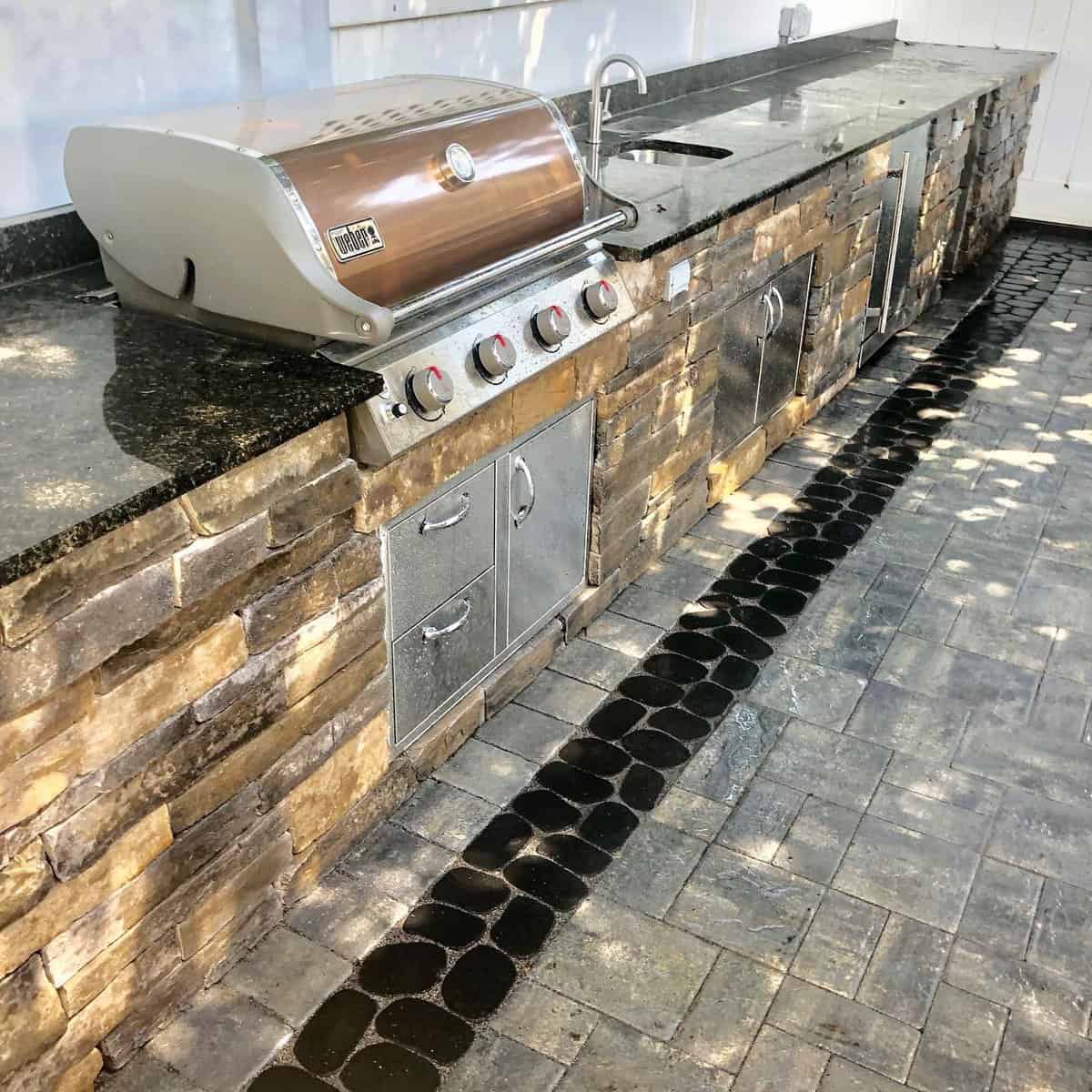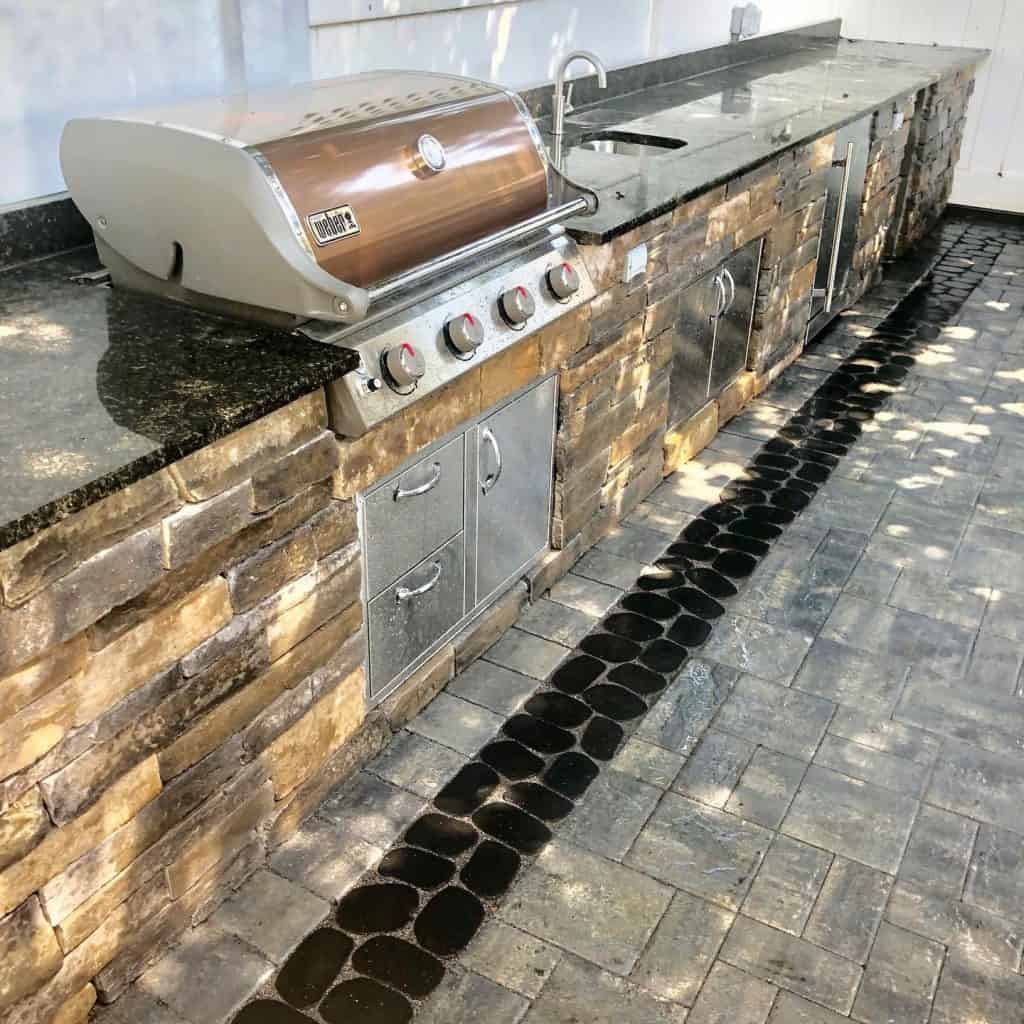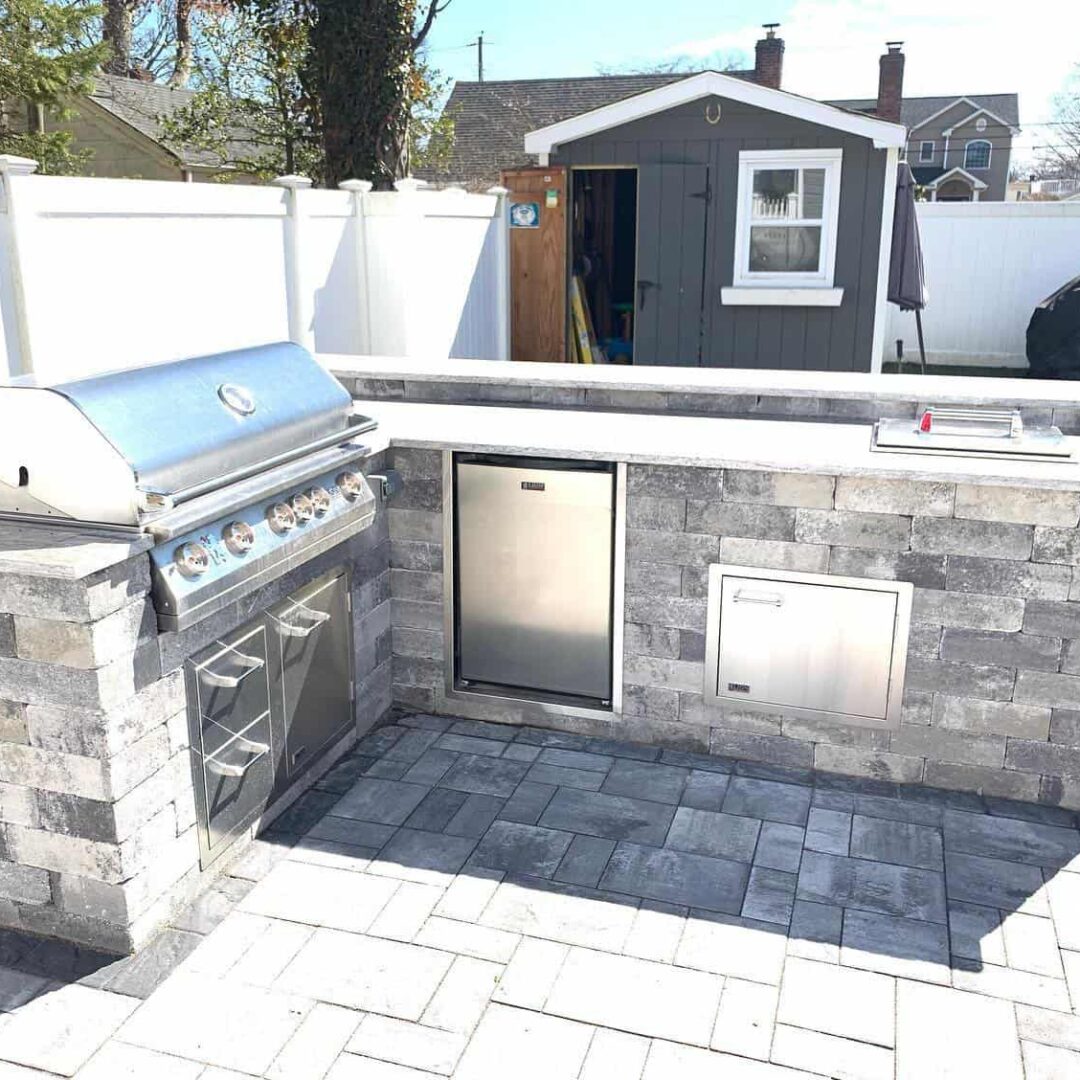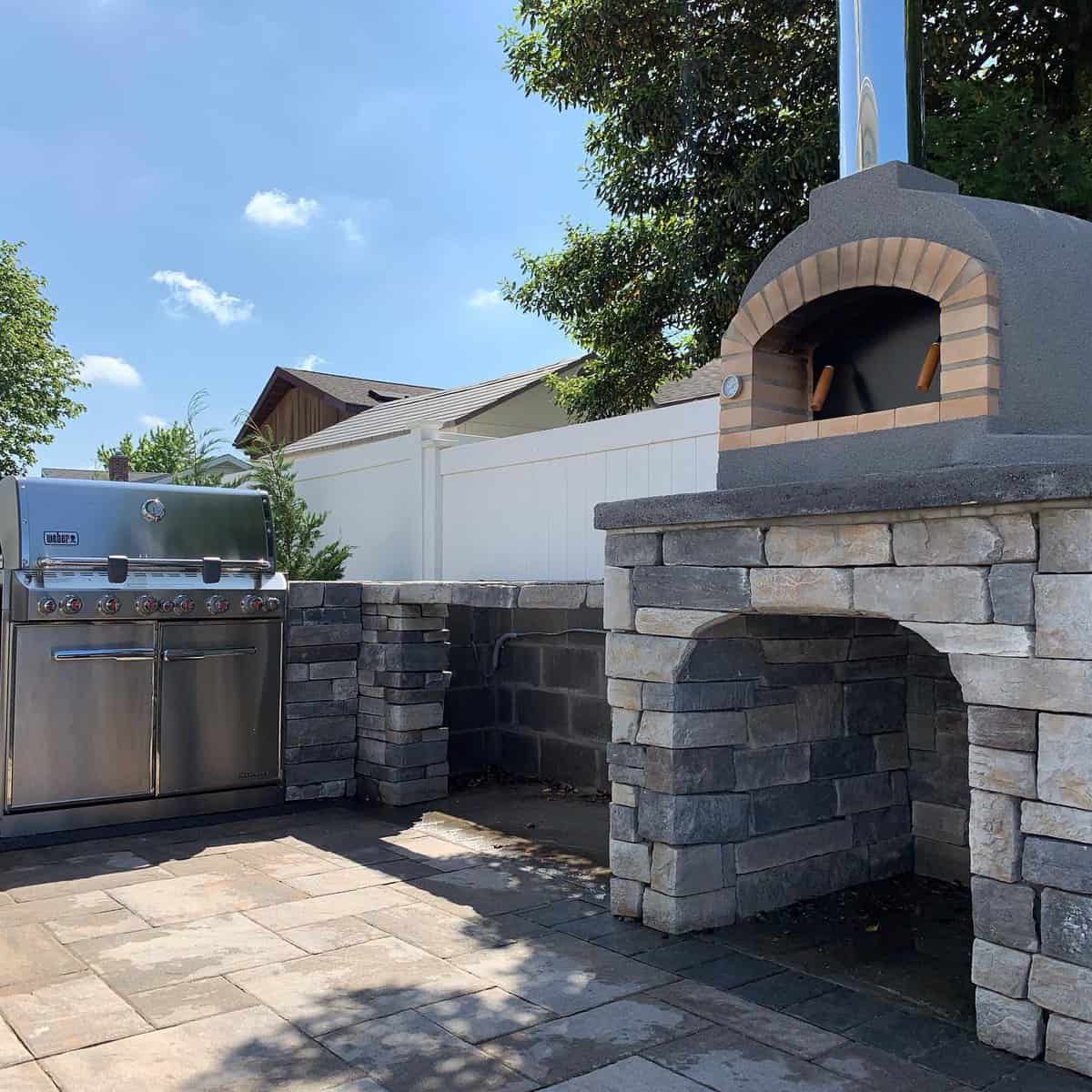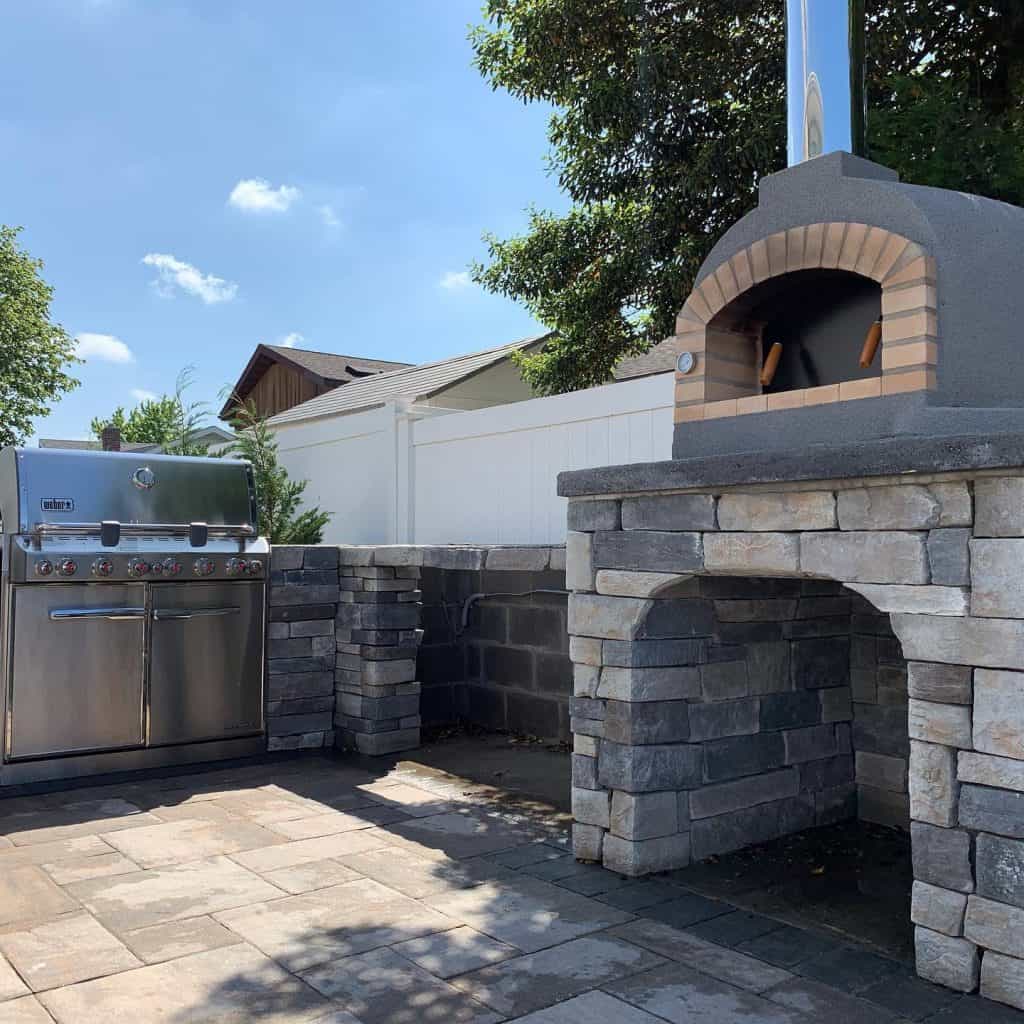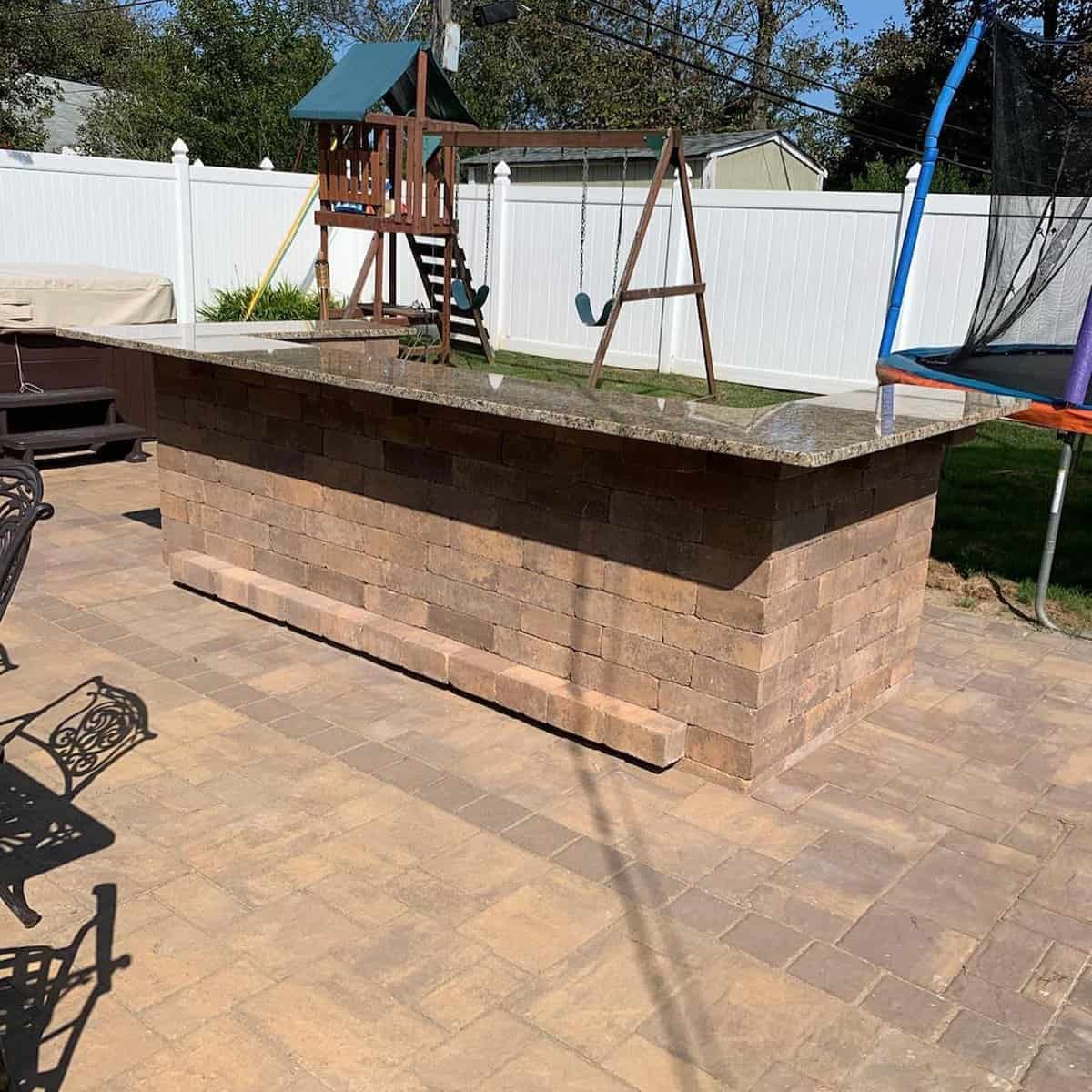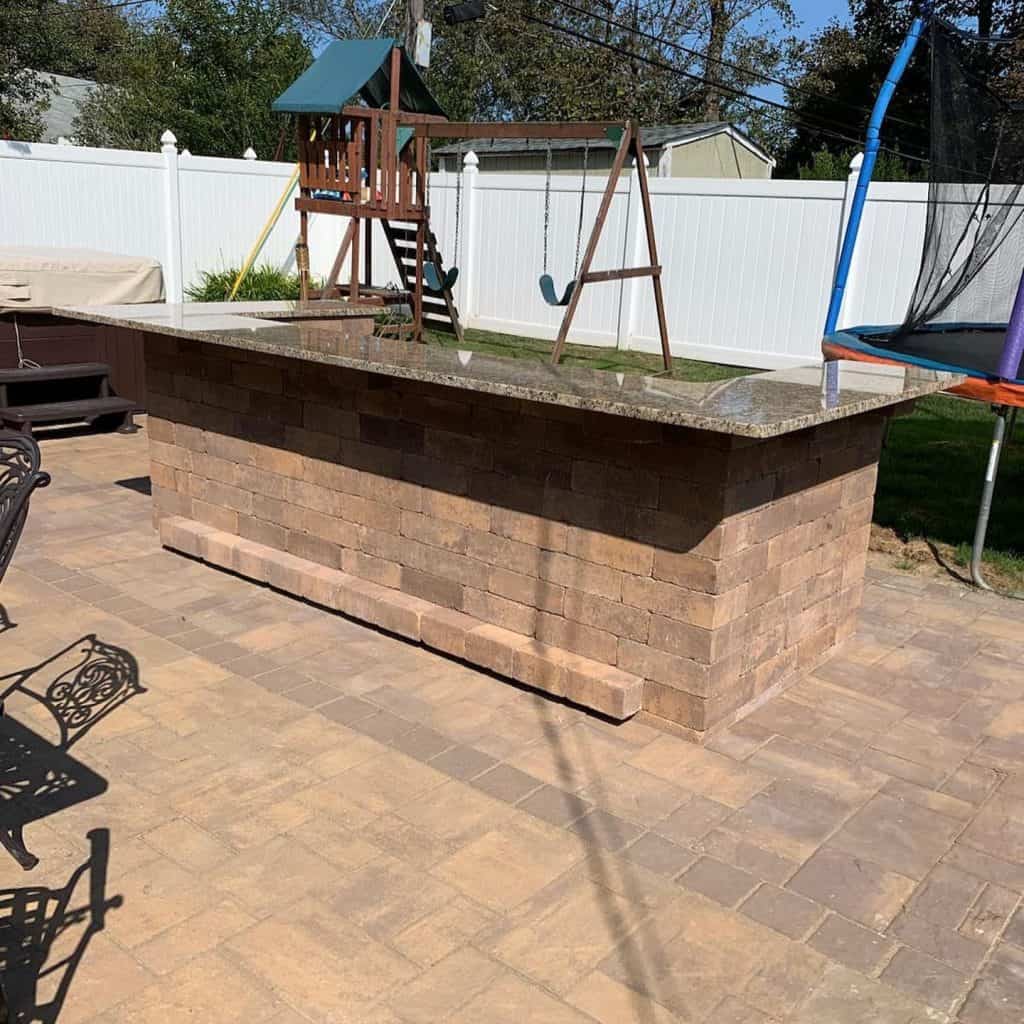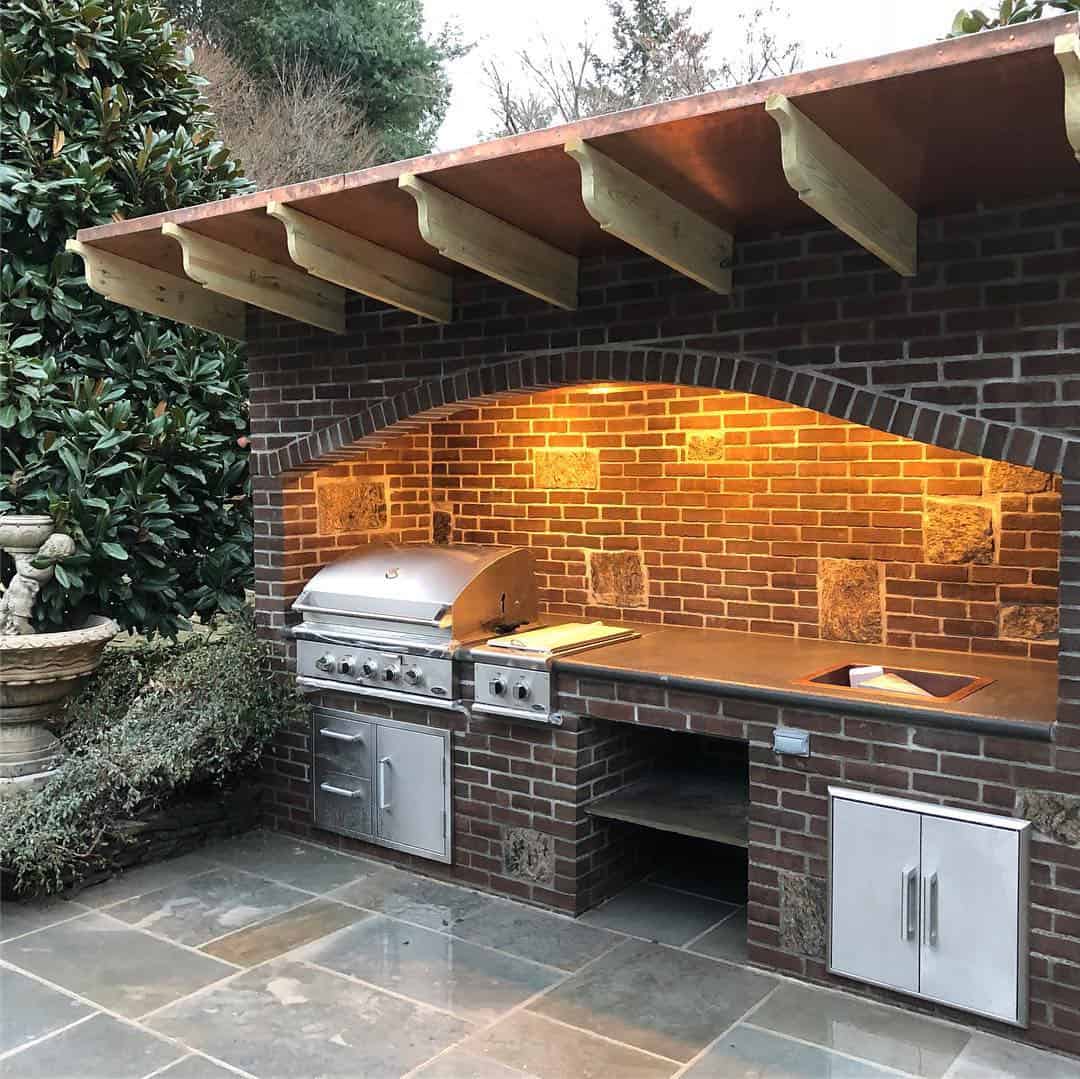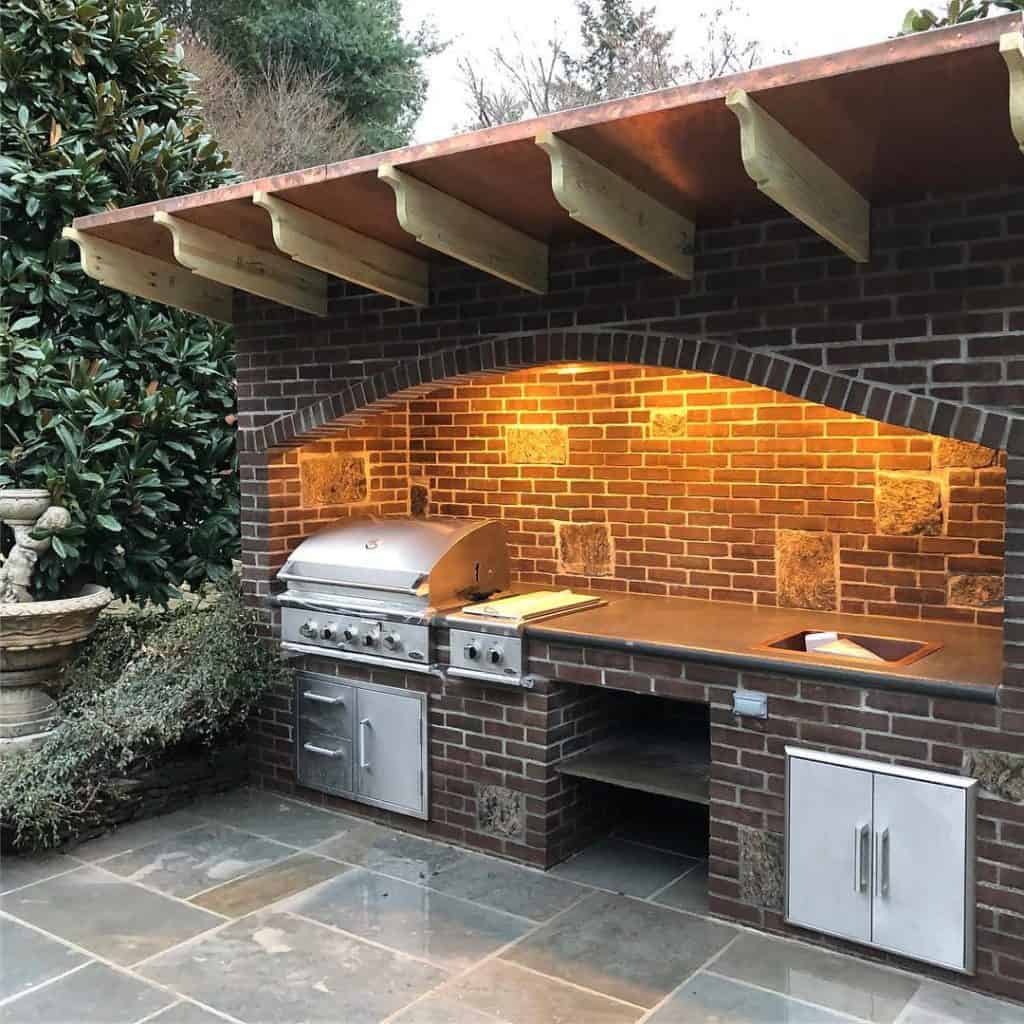 Ageless Masonry's Favorite Summer Recipes
Enjoy your outdoor kitchen with some delicious recipes picked by our Ageless Masonry team. Fire up the grill, prepare food in the lovely outdoors, and most importantly, enjoy with your family. Our Ageless Masonry owners and team love to cook for their families all summer long. Ready, set, grill!
Mango Salsa 
The recipe below is sourced from foodnetwork.com
Ingredients:
1 mango, peeled and diced 
1/2 cup peeled, diced cucumber 
1 tablespoon finely chopped jalapeno 
1/3 cup diced red onion 
1 tablespoon lime juice 
1/3 cup roughly chopped cilantro leaves 
Salt and pepper
Directions:
Combine the mango, cucumber, jalapeno, red onion, lime juice and cilantro leaves and mix well. Season with salt and pepper, to taste.
Smoky Pulled Pork on a Gas Grill 
The recipe below is sourced from www.keyingredient.com
Ingredients:
Pork 
Kosher salt and pepper 
2 teaspoons paprika 
2 teaspoons packed light brown sugar 
1 (5-pound) boneless pork butt roast, trimmed 
9 1/2 ounces wood chips (4 cups) 
2 (9-inch) disposable aluminum pie plates
1 (13 by 9-inch) disposable aluminum roasting pan
Vinegar Sauce  
2 cups cider vinegar
2 teaspoons packed light brown sugar 
1 teaspoon red pepper akes 
2 tablespoons ketchup 
1 teaspoon kosher salt
Directions:
For the Pork: Combine 5 teaspoons salt, 2 1/2 teaspoons pepper, paprika, and sugar in a small bowl. Cut pork against grain into 3 equal slabs. Rub salt mixture into pork, making sure meat is evenly coated. After that, wrap pork tightly in plastic wrap and refrigerate for at least 6 hours or up to 24 hours.

Just before grilling, soak 2 cups of wood chips in water for 15 minutes, then drain. Using a large piece of heavy-duty aluminum foil, wrap soaked chips in 8 by 4 1/2-inch foil packet. (Make sure chips do not poke holes in the sides or bottom of the packet.) Repeat with remaining 2 cups of un-soaked chips. Cut 2 evenly spaced, 2-inch slits on top of each packet.

Remove the cooking grate and place wood chip packets directly on the primary burner. Place disposable pie plates, each filled with 3 cups of water, directly on another burner(s). Set the grate in place, turn all burners to high, cover, and heat the grill until hot and wood chips are smoking, about 15 minutes. Turn primary burner to medium and turn off other burner(s). (Adjust the primary burner as needed to maintain a grill temperature of 300 degrees.)

Clean and oil cooking grate. Place pork on the cooler side of the grill, directly over water pans; cover; and smoke for 1 1/2 hours.

Transfer pork to a disposable pan. Return disposable pan to cooler side of grill and continue to cook until meat registers 200 degrees, 2 1/2 to 3 hours.

Transfer pork to a carving board and let rest for 20 minutes. Pour juices from a disposable pan into a fat separator and let stand for 5 minutes.

For the vinegar sauce: While pork rests, whisk all ingredients together in a bowl. Using 2 forks, shred pork into bite-size pieces. Stir 1/3 cup defatted juices and 1/2 cup sauce into pork. Serve, passing remaining sauce separately.

 
What Our Clients Say
Below are some testimonies from our amazing clients regarding outdoor kitchen installations.
"We just had our yard transformed by Ageless Masonry. What was mostly unusable space is now our own little oasis. The crew was super professional, very nice, very respectful, cleaned everything up very well, and best of all did beautiful work. Their recommendations for color, design and border work  was spot on! We are extremely happy with results and highly recommend their services. Thanks again!" – Steven W.
"Really great experience. Their service and reliability was amazing!! My patio is beautiful, they were prompt, professional and a pleasure to deal with. I would recommend to anyone looking to do any patio work. I couldn't be happier with this experience!!" – Patty L. Levittown, NY
Call Ageless Masonry to Schedule your Outdoor Kitchen Installation! 
Entertain your guests in your backyard, while enjoying your outdoor kitchen in addition to the many other benefits it has to offer. Enjoy your summer by calling Ageless Masonry. Together we can create a beautiful and functional outdoor kitchen with your desired appliances to make the perfect outdoor living space. With over 15 years of experience, call the experts at Ageless Masonry 516.795.1313 or click Contact Us Here to schedule your free estimate today